Ik was dat kleine jongetje dat oude radio's uit elkaar haalde om te zien hoe het in elkaar zat. Was urenlang in mijn slaapkamer bezig om uit te vinden hoe die Commodore 64 nou echt werkte.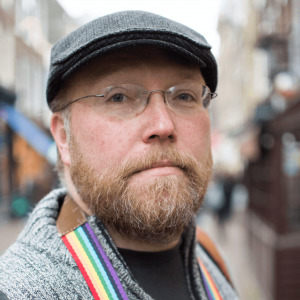 Nerd alert: Lange tijd Artificial Intelligence aan de TU in Delft gestudeerd, gespecialiseerd in toepassingen van vage logica. Uiteraard heb ik dat niet afgemaakt, dat zou te voorspelbaar zijn!
Tegenwoordig probeer ik mijn tijd te verdelen tussen apps bouwen voor mijzelf(check out Favolane!), de awesome iOS app bouwen voor Banda, films kijken in de bioscoop en fotograferen met de Urban Photo Collective. Af en toe een poging tot hardlopen, zwaai maar als je me voorbij ziet joggen op de Erasmusbrug.
Nog altijd ben ik nieuwsgierig hoe dingen nou echt werken, gelukkig kan ik me daar via Coursera helemaal op uitleven. Massive Open Online Courses zijn awesome!  Wie wil er nou niet weten hoe je een symmetrisch puur Bayesiaans strategisch evenwicht berekent voor een eBay veiling?
Meer weten? Neem contact op via Twitter, Facebook, LinkedIn, Google+, Lomography, Flickr, Instagram of mail me.
Of kijk op Github of StackOverflow.
Kusjedoei!
Rool.
P.S.: Als je echt wilt weten, Rool is heel officieel Rolant. Just call me Rool.