The world's leaders have assembled. So have their enemies.
Overview
In London for the Prime Minister's funeral, Mike Banning discovers a plot to assassinate all the attending world leaders.
Eentje uit de serie Jack Bauer. Er zit een overdosis aan terroristen in het pand waar de president gegijzeld is, de held heeft 3 kogels en een schoenzool, LET'S GO! Na een half uur dood en verderf zijn alle terroristen vermoord, is de held slechts licht gewond en de president gered.
Tja, het standaard plot voor bijna alle Hollywood terroristen films de afgelopen 10 jaar. Jack Bauer, Taken, Olympus/London has fallen, Mission Implossible, ga zo maar door. Zelfs de Iron Man  en Transformer series heeft hetzelfde plot.
Bleef het daar maar bij, het klassieke cliché boek wordt verder opgetrokken. Uiteraard wil de held stoppen met dit dodelijke werk, uiteraard is zijn vrouw hoogzwanger, uiteraard is het Amerika Rules the world, uiteraard worden er bekende gebouwen opgeblazen, uiteraard zit de rest van de regering in de war room de regisseur blijft keurig binnen de lijntjes van het genre.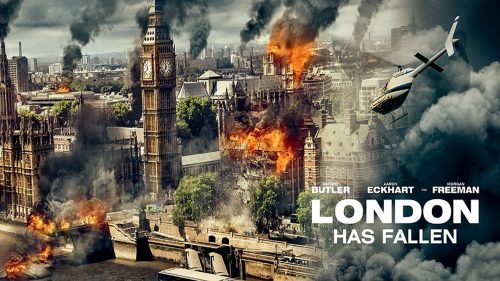 Dit keer wel met Morgan Freeman. Daarom haalt ie net een rating van 2,5 sterren.