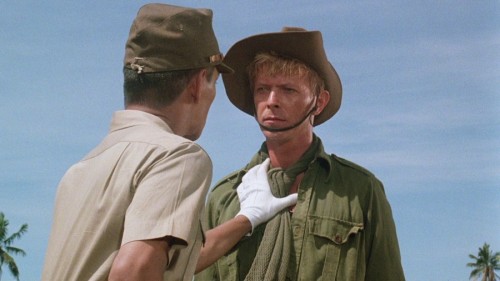 Het was 1983 en we gingen in Haarlem naar de bioscoop, mijn eerste kennismaking met David Bowie in  Merry Christmas Mr. Lawrence.  Over een Britse gevangene in een Japans gevangenis kamp op Java.
We waren 13, eigenlijk veel te jong voor de film (16+).  Waarom we ooit binnen zijn gelaten snap ik nu nog niet. Achteraf beschouwd verklaart deze film wel een boel van mijn voorliefdes. Zo hou ik bijvoorbeeld van cello muziek, wie kent niet die schitterende soundtrack van Ryuichi Sakamoto.
Even tussendoor, Sakamoto is trouwens ook de componist van het schitterende slotnummer in Babel van Alejandro González Iñárritu. Dezelfde die vorig jaar een Oscar won voor Birdman or (The Unexpected Virtue of Ignorance) en waarschijnlijk ook een voor The Revenant.
Ik denk dat mijn fascinatie voor obscure Aziatische films duidelijk hier van afstamt. Met als vast middelpunt Takeshi Kitano.  Hij is degene die uiteindelijke de beroemde woorden Merry Christmas Mr. Lawrence uitspreekt!!!! Denk aan films als Battle Royale,  Zatoichi en Outrage. Ik verheug me nu alweer op het IFFR.
Uiteraard gaat het bij mij over films. Had je iets anders verwacht? Maar het ging over Bowie. Na de jaren tachtig ben ik hem eigenlijk uit het oog verloren. Tot ik nu precies drie jaar geleden op youtube de video Where Are We Now? tegen kwam.  Een diep melancholisch nummer waarin Bowie opeens een oude man blijkt te zijn, met af en toe een glimp van vroeger. Ik vond en vind het briljant.
As long as there's sun
As long as there's sun
As long as there's rain
As long as there's rain
As long as there's fire
As long as there's fire
As long as there's me
As long as there's you
Guess there's just me now.  ☹