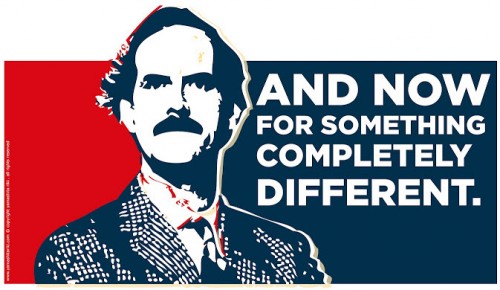 Het werd al lang over gefluisterd in de wandelgangen, verscholen gesprekken bij het koffie apparaat. Zouden de geruchten echt waar zijn?
Over twee weken, op 26 februari heb ik exact zevenenveertighonderd dagen bij Mangrove gewerkt. 4700 dagen! Om er maar eens een mooi cliché in te gooien, da's zeg maar best wel lang. Tegelijkertijd is het ook wel genoeg. Na bijna 13 jaar is het tijd voor iets anders. Insert John Cleese:
And now for something completely different….
Nee, ik ga niet opeens geiten fokken in de uitlopers van de Andes of mezelf herontdekken als garnalenvisser in IJsland. (Daar ben ik al geweest, fucking koud!)
Wat dan wel? Vertel! Vertel! Een deel van mijn tijd ga ik Chief iOS spelen bij de startup Banda.  Daar gaat u nog heel veel van horen. Uiteraard moet ik met de laatste trend mee en ga ik daarnaast als freelancer aan de slag. Ja ja, je leest het goed, weer zo'n ZZP-er erbij.
Om mezelf gelijk maar schaamteloos te promoten, zoek je nog een awesome freelance iOS of Android developer? Hier is er een!